MARCH MEETING
Guest Speakers:
Rosanne Roberts
and Phil Archuleta
"Women Marked by History"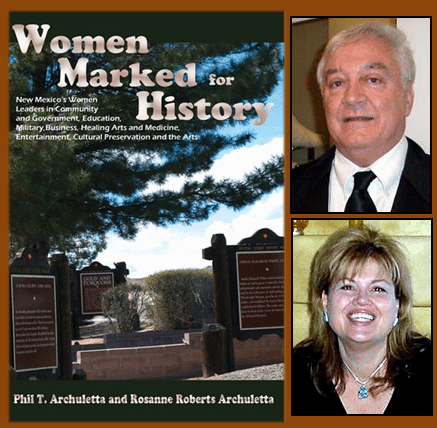 March 7th, 2015

The women in Women Marked for History are educators, writers, entertainers, activists, heroes (military and otherwise), community and society leadrs, political and government leaders, artists, scientists, historians and cultural preservationists, healers and other medical professionals and business leaders. The lecture will share the stoires of those who wove the fabric of what has become known as "The Land of Enchanment" and how these women intersect in so many interesting and unusual ways. "We are delighted to partner with the Archuletas and their book and the New Mexico Roadside Markers that honor women leaders to celebrate March, Women's History Month" says Ernestina Cordova, President, Taos County Historical Society.
For example, in Taos County, on Route 150 to the Taos Ski Valley, there is a New Mexico Historic Women Marker honoring Virgina T. Romero. The daugther of Jose Pablo and Yeodorita Martinez, Virginia (1896-1998) was born at Taos Pablo. Virginia T. Romero a world famous potter and mother of ten children began her lifelong career in 1918. She supported her family by selling a variety of pots to locals and tourists for use in cooking, storing water and as decorative art. She helped keep the micaceous pottery tradition alive in Taos Pueblo. Traditionally, fired outdoors, these pots are dotted with flecks of mica, a shiny silicate mineral.
Phil Archuleta is a native New Mexican born in El Rito. Since 1970 he has been involved with the manufacturing of the New Mexico Historical Markers and has traveled the state logging each marker in order to preserve this aspect of New Mexico history. Rosanne Roberts Archuleta was born in Philadelphia and like so many of the women in the book fell in love with New Mexico. The book, Women Marked for History she and Phil authored has created great buzz by filling in the details on the stories of behind the name of so many women honored with historical markers.